The 15th Annual International Kartvelological Conference
---
Centre for East European Studies of University of Warsaw
is pleased to invite you to
The 15th Annual International Kartvelological Conference in memory St. Grigol Peradze
which will be held at the University of Warsaw on December 6th to 8th, 2016
This year conference is titled
"Georgian Civilisation from Antiquity to Middle Ages. History – Literature – Art"
and it's dedicated to 850th anniversary of the Shota Rustaveli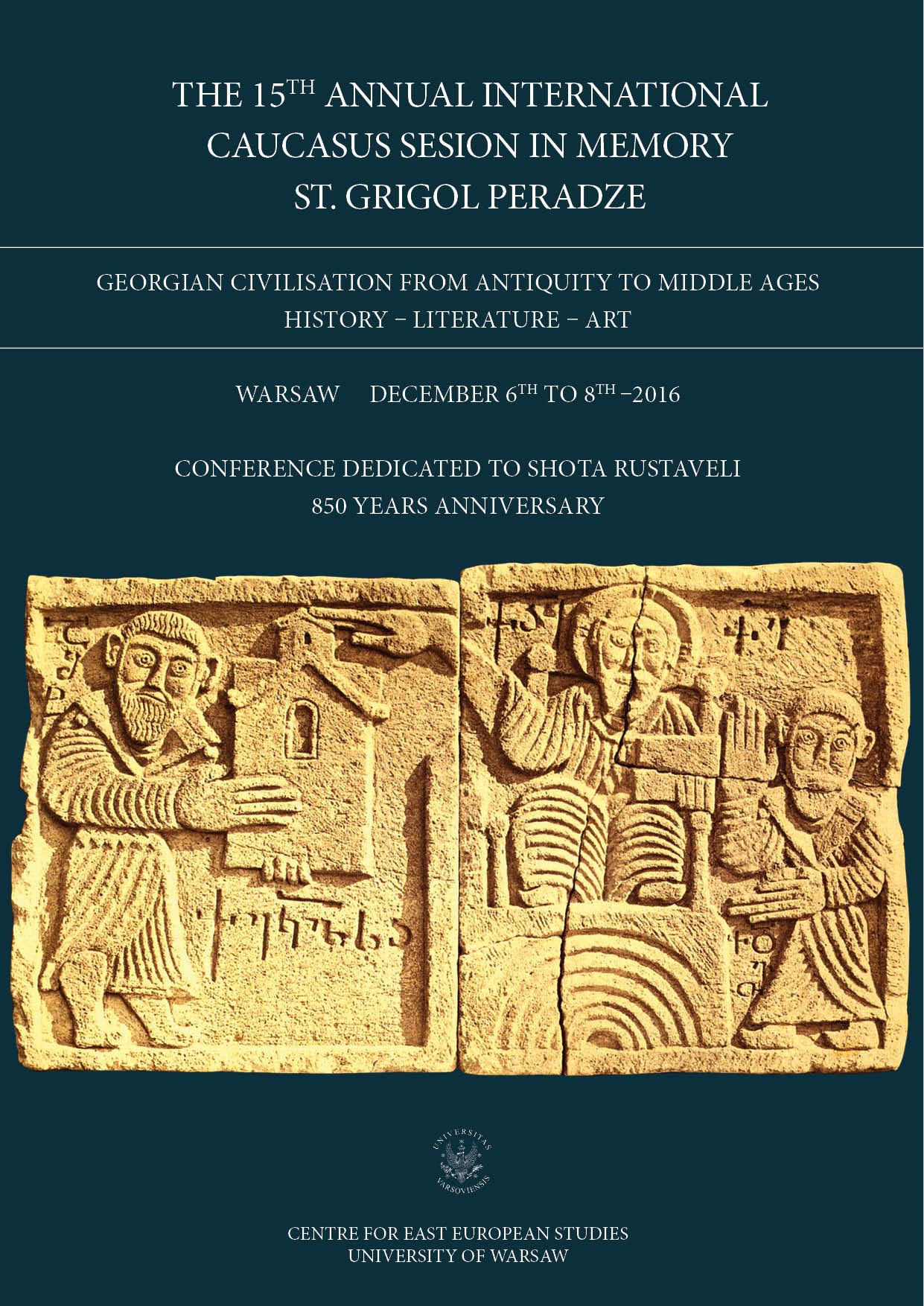 The aim of this year's conference is to present the history and heritage of Georgian culture inseparably associated with the person of the poet – Shota Rustaveli, as well as his role in the Polish and world literature. The conference will also concerns issues of the contemporary countenance of the Caucasus – the social and cultural aspects of the transformation in the transcaucasian countries, the issues of democratization and systemic changes, as well as religious issues related to the functioning of Christian churches in the Caucasus.
Opening of the conference is traditionally held on December 6 at. 4.45 PM and is associated with the date and the hour of the martyrdom of St. Gregory Peradze, monk and martyr of the Orthodox Church, whose greater part of his  pastoral activity and research spent in Warsaw. In 1933, he became a Professor of Patrology and head of the Patrological seminar at the Faculty of Orthodox Theology, University of Warsaw. In May 1942, he was arrested by the Gestapo in Warsaw. In November that same year, he was sent to Auschwitz. There, sacrificing his life in exchange for the lives of other prisoners, his life ended on 6 December 1942.
As every year, the first day of the ceremony will feature a performance of the Choir of the Christian Theological Academy, and will be preceded by laying wreaths under the plaque located on the wall of the University of Warsaw's Institute of History. The plaque commemorates professors of the University of Warsaw, murdered during the Second World War, among them St. Grigol Peradze. in front of an array positioned on the wall of the building of the Historical Institute of Warsaw in memory of murdered during World War II, university professors, including St. Gregory Peradze.
---
Working languages of the Conference: Polish, English
Conference Coordinator – David Kolbaia head of the Caucasus Seminar Centre for Eats European Studies University of Warsaw.
Address of the Conference Committee: Centre for East European Studies University of Warsaw; 26/28, Krakowskie Przedmieście, Tel: +48 22 5521888; Fax +48 22 5521887; e-mail: programy.studium@uw.edu.pl