"A brief military history of the January Uprising" by Józef Piłsudski in the Georgian edition
---
Centre for East European Studies in cooperation with the PZU Foundation proudly presents

"A brief military history of the January Uprising"
by
Józef Piłsudski
The book was fully translated to Georgian.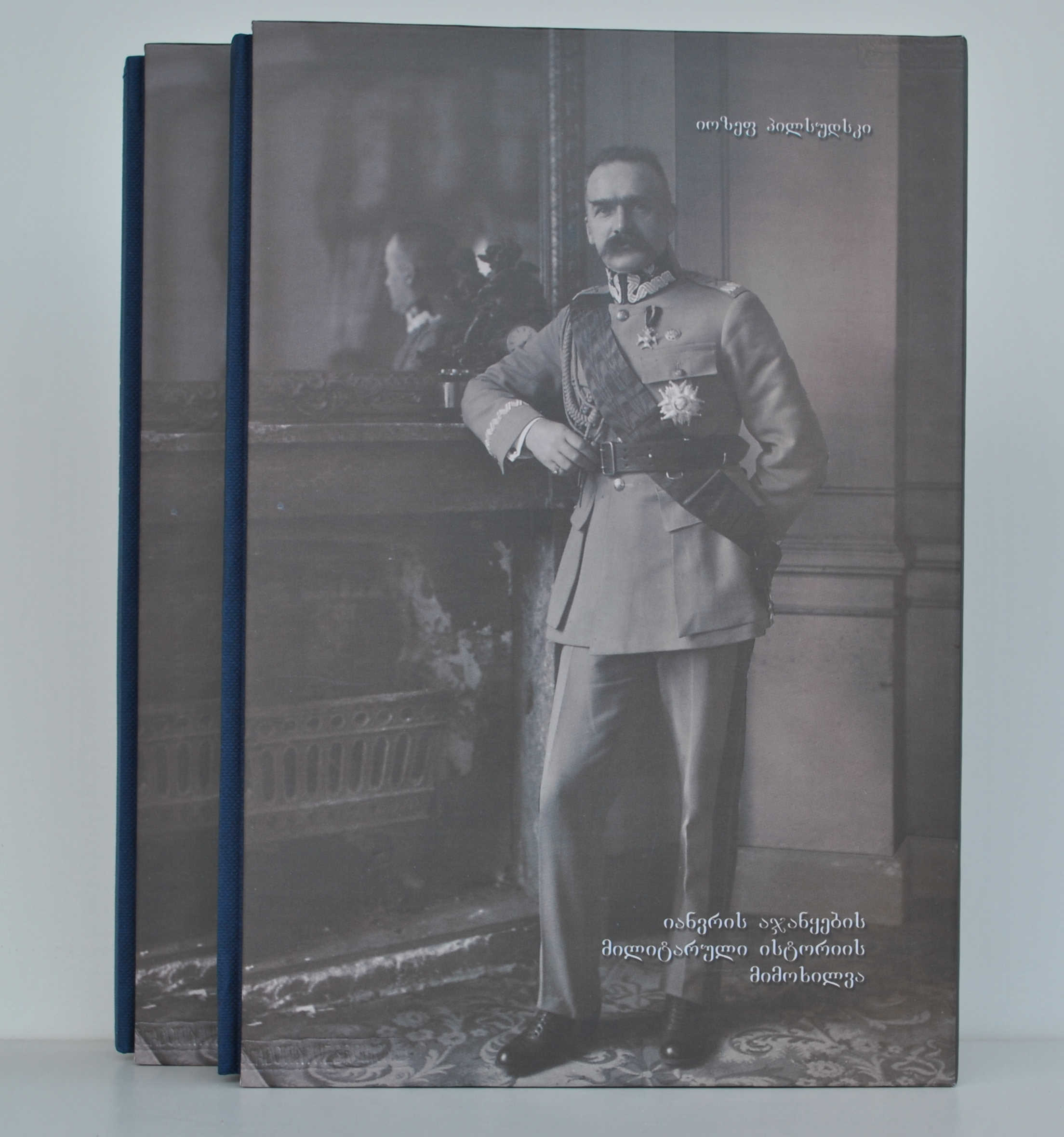 Józef Piłsudski, A brief military history of the January Uprising. Lectures delivered in 1912 at the School of Social and Political Sciences in Krakow. Georgian translation by LC. Dipl. Valerian Tewzadze, introduction by David Kolbaia, University of Warsaw, Warsaw 2017 ISBN 978-83-61325-60-4 (in Georgian) was prepared and printed by the deputy. Reviewers: Prof. Georges Mamoulia and Prof. Andrzej Woźniak. The book was published with the financial support of the PZU Foundation / Partner PZU Foundation.
Józef Piłsudski (1867-1935), Polish military commander and statesman, first marshal of Poland, head of state in 1919-1922, prime minister of Poland (1926-1928 and 1930). Georgia regained its independence in 1918. The Independence Act of Georgia was announced  by The National Assembly in Tyflis. The Georgian national army was created, and the Georgian church recovered its autokefalia and for the first time in 100 years choosed catholicos. Independence of Georgia was approved de facto and de iure by almost all countries, including Poland. In 1921 the Soviet troops conquered Georgia.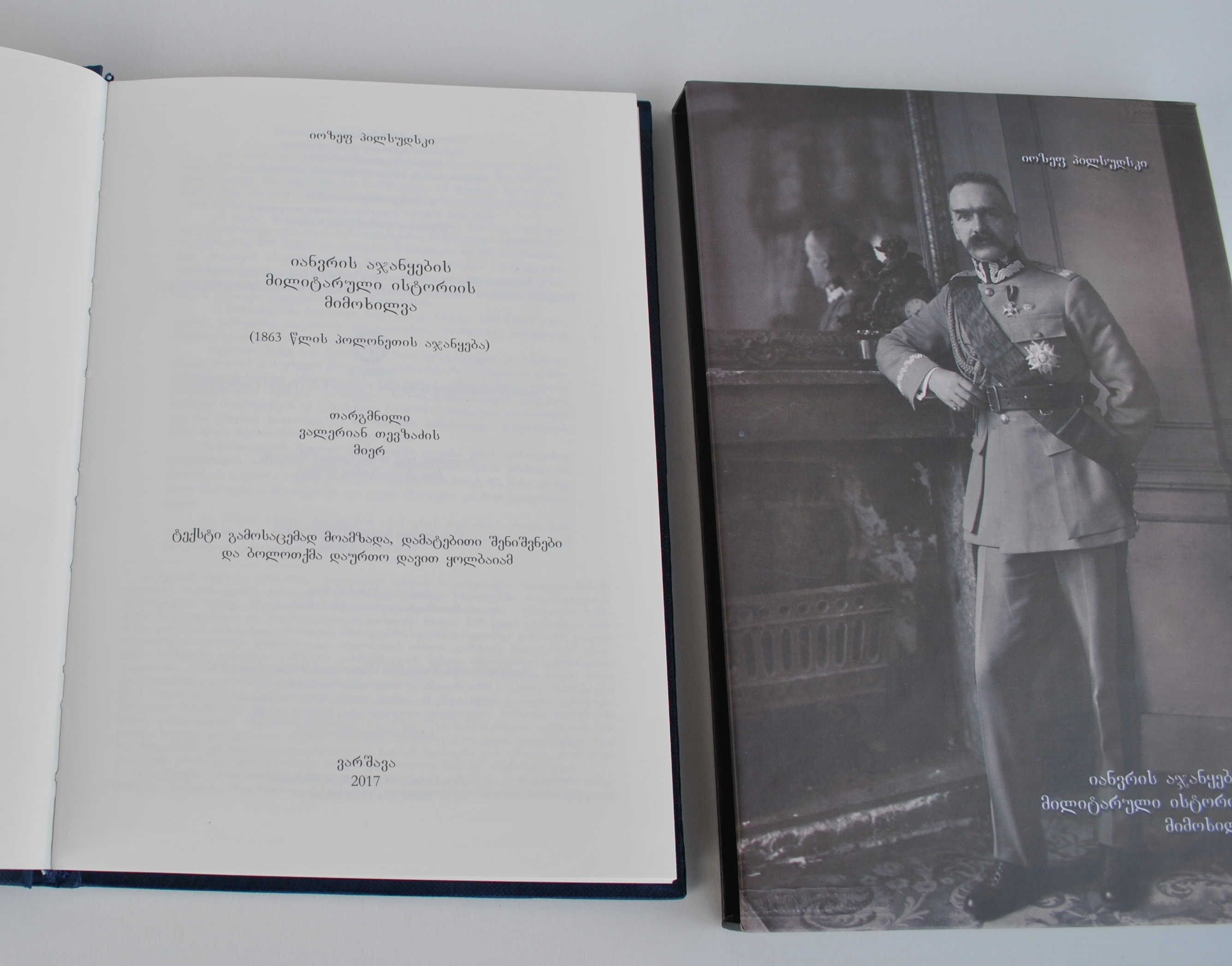 The Georgian government was forced to leave the country and go to emigrate. Significant numbers of Georgian emigrants, among them the officers and cadets of the Georgian army, after the personal decision of Marshal Jozef Pilsudski in 1922, moved to Poland. They served in the Polish Army as contract officers, ran businesses, practiced medicine, studied and lectured at colleges. Many of them decided to make a families here. However, everyone was faithful to their lost homeland. In 1933, at the Eastern Institute, the Orientalist Youth Circle was established, and within it was the Caucasian Section. The circle was subsidized by the Ministry of Foreign Affairs and the Polish Army. Thanks to the scholarships funded by the Institut many Georgians were able to study and make political actions in Poland and abroad. 
იოზეფ პილსუდსკი, იანვრის აჯანყების მილიტარული ისტორიის მიმოხილვა (1863 წლის პოლონეთის აჯანყება), თარგმნილი დიპლომირებული პოდპოლკოვნიკის ვალერიან თევზაძის მიერ (1931 წელს). ტექსტი გამოსაცემად მოამზადა, დამატებითი შემნიშვნები და ბოლოთქმა დაურთო დავით ყოლბაიამ, ვარშავა 2017. ISBN 978-83-61325-60-4.